This is the month of festivals, south Indians are busy in celebrating festivals one by one. Now am going to share some interesting information's about popular festival of Kerala, which is nothing but onam. Onam is an auspicious occasion celebrated in kerala. This is one of the important festivals for keralians. They celebrate it in a grand manner. Last year during this festival we shared some of the precious photographs of onam festival. We never expected such a response from our visitors. They just loved it we got and amazing response from our visitors. Kerala is known as god's own country, to speak about Kerala it is a stunning place. People are blessed to live in gods own country. The nights in kerala are just mind-blowing they light lamps in and out of their houses and it will be like entering into heaven. Some godliness is there in that place. To speak about the physical features of that state it is just amazing, the state is dressed green and also kerala is the water covered place. There are still so many amazing things to speak about kerala. Coming to onam, it is celebrated to honor the king mahabali as he returned to his kingdom on earth.
During this festival people exchange wishes and sweets among each other and important thing is onam pookolam. Girls decorate their houses and they put pookolam in front of their houses. In middle of that kolam they will keep a big lamp and they will light the lamp during onam sandhya. Another important thing is the food they prepare during this festival. They prepare varieties of dishes in they offer that food for god. During onam after lighting the lamp at evening girls will dance around the onam pookolam. That will be an amazing event of that day. Some will also arrange khatakali dance during that nights. Khatakali is the state dance of keralians. Still there are so many interesting things to speak about onam. Here you can see some of the stunning photographs of onam enjoy it.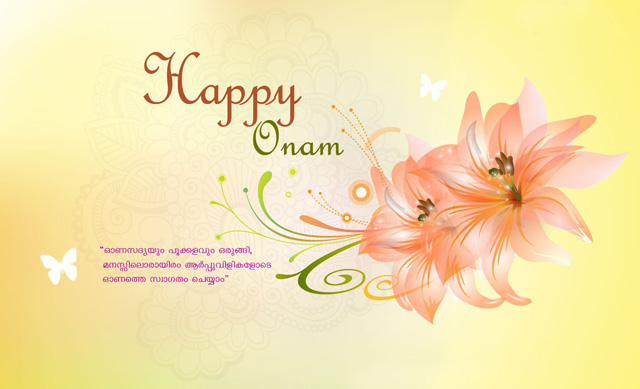 Puli Kali which is said to be Tiger Play, which was performed by trained artist was performed to entrain peoples on the beautiful occasion of Onam. The artists were costumed as Tigers and hunters on the fourth day of Onam which is said to be Naalam Onam and they perform the dance on the beats of instruments like Udukku and Thakil. This art was mainly in Thrissur district of Kerela, this folk art was started by the King Maharaja Rama Varma Sakthan Thampuran decided to celebrate onam with dance before 200 years and still it has it king and to be sure this folk art attracts all the visitors.
Athachamayam Festival at Tripunithura was one of the festival which is used to celebrate during the harvest in Tripunithura, in Eranakulam district, Kerela. This Athachamayam festival which shows the true spirit on onam and highlights in religious and communal harmony. The festival has the parade of elephants, colorful flowers, folk art, Puli Kali and much more. this was celebrated on the last day of Onam brings the happiness to all over the city and also the state. Everyone from various parts visit Trinpunithura to celebrate the beauty of the festival.
Kerela was also well known for boat race which is said to be Vallam Kali means boat play. The races were different and most part of the people enjoys watching it. There are different types of boat and it varies according to the event name. The Nehru Boat Race was one of the most important boat race that will takes place Punnamada Lake near Alappuzha, Kerala, which is more popular when compared to other.